The rise of investment apps has made investing more convenient and easier for investors. With just a few taps on your phone, you can now get access to your stock portfolio, trade in the stock market, and evaluate your portfolio's performance.
Whether you are a beginner or an experienced investor, here are 17 best investment apps you should consider and look out for this year.
1. Acorns
Acorns is one of the best investment apps for beginners. This app provides free management for college students who want to start investing. It offers a spare change savings tool where you can link your debit or credit card to the app.
Then, it will round up the transactions you make at select retailers. You can invest the difference between the next dollar and the balance due in your user account.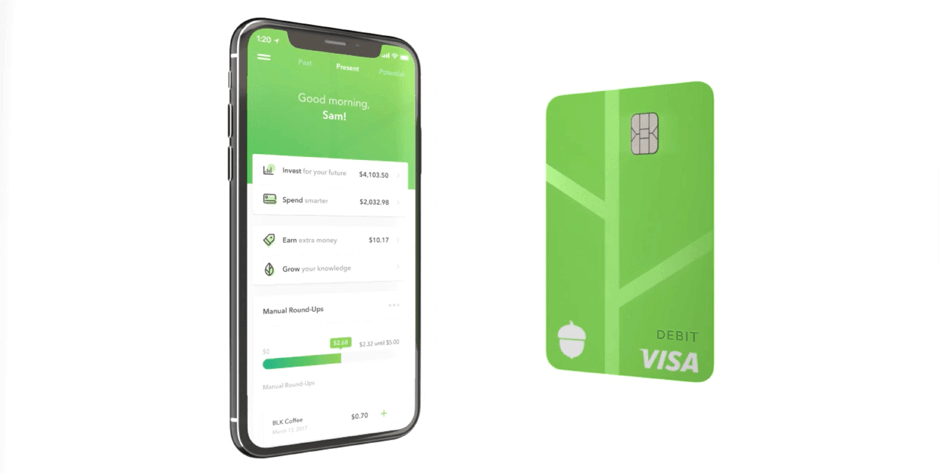 For accounts with a balance of up to $5,000, there is a fee of $1 per month. While accounts with a balance over $5,000 pay a 0.25% fee. The existing portfolios on Acorns focus on low-cost ETFs (exchange-traded funds) and offer users diverse investments without making a big starting investment. It makes it easy to invest at a few dollars and from there, it adds up.
2. Stash
Stash is similar to Acorn in offering a low-cost method to build a diverse portfolio. It is one of the best investment apps that help you make investment decisions yourself. There is educational content customized to your investment preferences that are included in the app. You can create your own custom portfolio or choose between values-driven portfolios focused on different investing themes.
Also, you can set up an "Auto-Stash" plan where you can add funds for recurring investments. Stash provides different account options: for $3 per month, you can get a bank, brokerage, and retirement accounts.
For a $9 monthly fee, you can also get an upgraded debit card, two custodial accounts, monthly investment research, and a stronger rewards structure. Stash only requires $5 to open an account and purchase fractional shares in stocks and ETFs.
3. Round
Round is the best investment app for managing high-end investment. It works with fund managers like Doubleline, Guggenheim Partners, and Gabelli to give individual investors access to institution-grade investments. Round does this by using an automated questionnaire to generate its users' portfolios.
This app's institutional managers lean heavily on alternative assets and strategies. It includes real estate, asset-backed securities, and merger arbitrage. For its management fee, Round charges a 0.5% no matter the account value. But it also waives its monthly fee, in the event of a negative return.
4. Robinhood
Robinhood is the ideal app if you want to trade free of fees and avoid trading commissions. Aside from stock trades with zero commission, it also offers free ETFs, options, and cryptocurrency. This easy to navigate app connects to your bank and funds your account.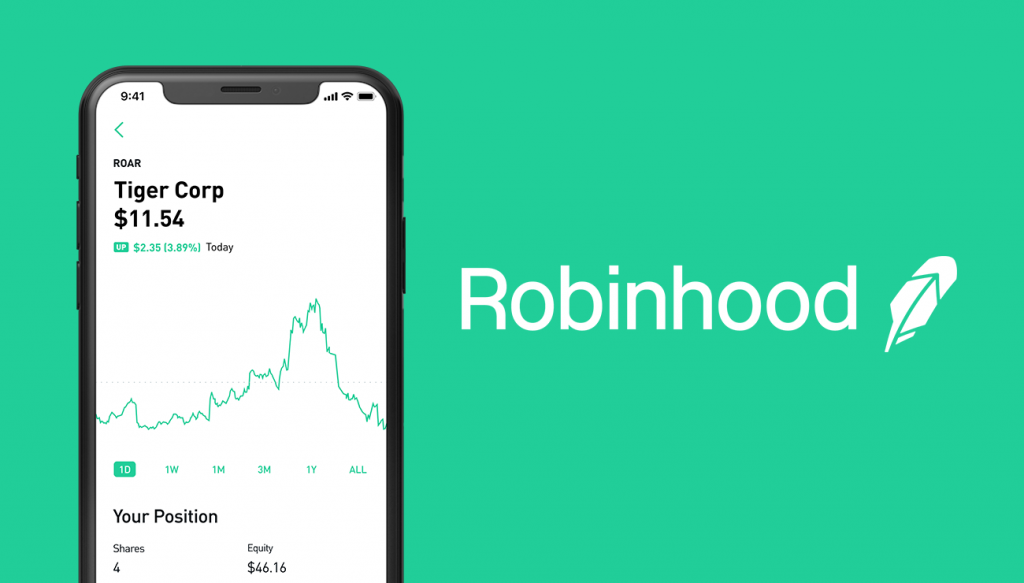 You can access a stock's page and pull up charts and statistics. Robinhood also has a feed with stories from news and investing sites to keep you updated. This is a simple way to navigate and follow the stock market.
Another great feature is the instant delivery of the first $1,000 of any funds you deposit to the account. It allows you to start trading immediately.
5. Stockpile
Stockpile is one of the best investment apps for gifting stocks. The app offers a unique approach to buying and selling stocks by allowing you to buy fractional shares of nearly any company. With a stock gift card, you can fund an account by giving the recipient shares of stock starting at $5.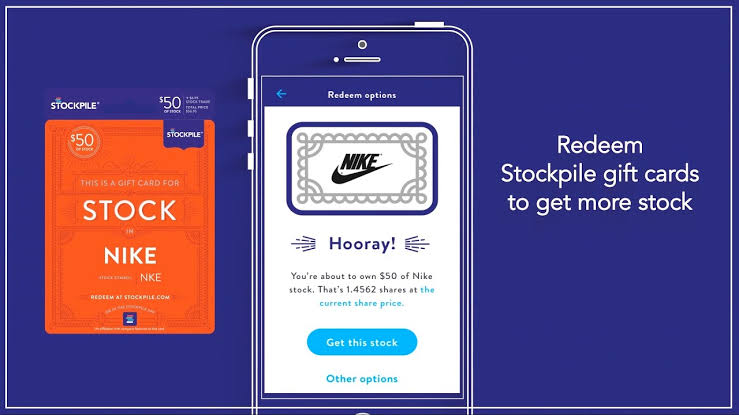 All trades are at $0.99, and there are no monthly fees. Stockpile offers over 1,000 investments including single stocks and ETFs. This app lets you fund an account through a bank transfer or give a physical/e-gift card that pays dividends. It is perfect for parents or grandparents who want to get their children or grandchildren interested in investing in the stock market.
6. Vault
Vault provides many options for the self-employed to invest making it one of the best investing apps for retirement. This is especially ideal for freelancers who do not have access to an employer 401(k) plan. The app allows you to open an IRA, Roth IRA, or SEP-IRA account for your investments. It uses the same price model as Stash and Acorns.
Based on a specific percentage of your income, Vault gives you the ability to invest no matter what form of IRA you prefer. When money is deposited into your account, you can get a notification through the app to approve depositing the percentage you picked in your IRA account. You can also choose to automatically invest your percentage without manual approval.
7. Clink
Clink is savings-based that invests your fund into a portfolio of Exchange-Traded Funds (ETFs). It is one of the best investment apps for micro-investing. You can link a bank account and credit card to the app and invest a percentage of purchases. Also, you can schedule a fixed amount to be transferred into your account on a daily or monthly basis.
There is no minimum investment amount for Clink, just a $10,000 daily limit. For portfolios up to $5,000, there is a $1 monthly fee and balances above $5,000 have a 0.25%. Clink app collects kickbacks from the ETF sponsors offered, though ETFs are their only asset option and are only available in bundles.
8. TD Ameritrade Mobile
TD Ameritrade is one of the biggest and most known brokerages. This investing app does not require a minimum investment or deposit to open an account. But it charges a $6.95 fee for each trade. TD Ameritrade allows you to log in online to manage your portfolio and access additional features.
Among the features include setting price alerts to receive a notification when your investments hit a specific price point. You can also watch over 20 educational videos in the app to gain additional knowledge about investing. TD Ameritrade Mobile also provides 24/7 phone, text, and instant messaging support if its users need help.
9. Wealthfront
Wealthfront is for those who want to invest in passive portfolios to build wealth. It is one of the best investment apps for total automation. This app includes built-in intelligence to help you maximize your investments based on your risk tolerance. Wealthfront charges a management fee of 0.25% but is free for the first $10,000 you invest.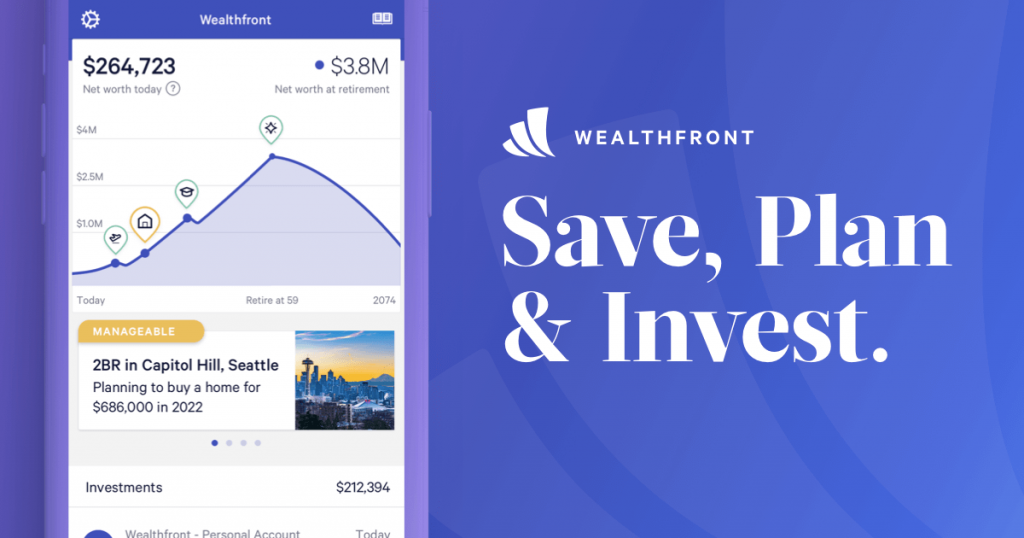 It requires a $500 minimum balance requirement and supports daily tax-loss harvesting or realizing losses to offset taxes on capital gains. Wealthfront takes into account your spending and financial goals to create a personalized strategy for you. Based on deposits and market fluctuations, this app invests your money into up to 11 ETFs. It even offers investment options such as a 529 College Savings Plan.
10. Betterment
Betterment offers a socially responsible investing (SRI) portfolio. Like Stash and Wealthfront, this app automatically conducts tax-loss harvesting on all accounts. This helps ensure clients with taxable and retirement accounts that different investments are allocated into both of their accounts, in a tax-efficient way.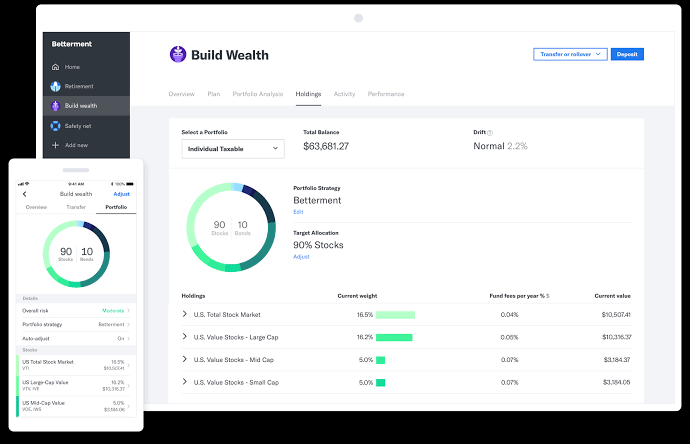 The app charges an account management fee of 0.25%. Betterment has no account minimum though, so you can start with small investments. You can choose between a digital portfolio or a premium portfolio. The premium portfolio has a 0.40% account management fee and an account minimum of $100,000 and higher.
11. Twine
Twine is one of the best investment apps for couples. For every $500 invested, it charges $0.25 per month. The app gives its users three portfolio choices: conservative, moderate, or aggressive. There is also an even more limited all-ETF asset mix which covers stocks and bonds. Twine is an ideal app for short-term savers who are new to investing.
12. Vanguard
Vanguard is one of the oldest and lowest-cost investment providers. This is one of the best investment apps for index investing and does not require a minimum balance. It charges no commissions for trading but it receives fees on its own ETFs. Also, people who receive their account documents electronically pay no account service fees.
13. Ally Invest
Ally Invest caters to both new and experienced investors. The app has a solid selection of educational materials and a fair fee structure. It is also part of the top investing apps because of its bonuses. Investors earn $50 with only a $10,000 deposit and 90 days of commission-free trades. The bonus amount can go as high as $3,500 for larger deposits.
14. Personal Capital
Personal Capital is one of the best investment apps for human customer service. The featured savings tools make up for the high minimum balance. Users who can meet its $100,000 minimum get a combination of human and Robo-advisors, while dedicated financial advisors are assigned to accounts over $200,000.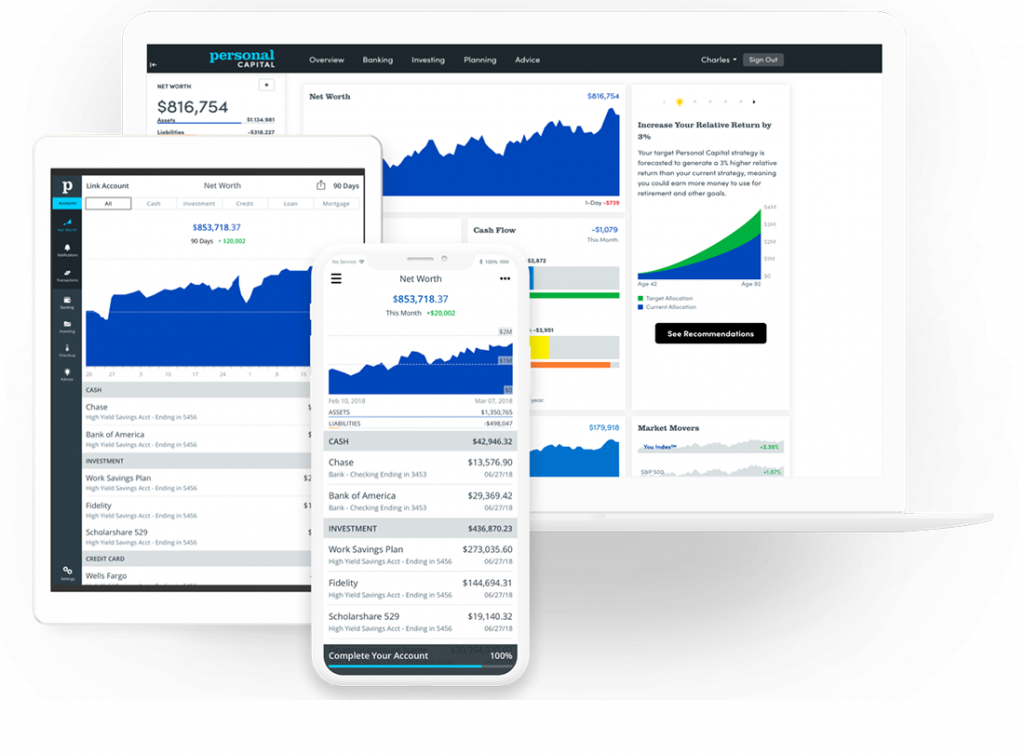 Other features of Personal Capital include a pile of financial planning tools. Those tools help track spending, net worth, portfolio performance, retirement progress, and more. The app also features Personal Capital Cash which is a savings-like account with a 2.3% interest rate. Investors can project their withdrawals during retirement with the retirement paycheck planner as well.
15. M1 Finance
M1 Finance is a hybrid broker and investment management app. It allows long-term investors to choose between hand-picking stocks or Robo-advised investing. They can either pick a model portfolio powered by a Robo-advisor or manually select a portfolio of stocks and ETFs; or a mix of both strategies.
This app is a free platform with strong data security measures and no account minimum. M1 also offers a fee-free taxable account and an IRA account, provided you invest at least $100 or $500. The hybrid setup of M1 Finance provides investors some flexibility.
16. E*Trade
E*Trade is the best app for investment selection. It provides a lot of options for traders and gives access to thousands of stocks, bonds, ETFs, mutual funds, and more. Many of the mutual funds and the ETFs are commission-free. Other investment products' trading fees range from $0.75 to $6.95.
Aside from the various trading options, E*Trade also has news and market analysis from MarketWatch, CNBC, and Morningstar. You can set up personalized stock alerts and also compile watchlists of investments to keep yourself updated.
17. Fundrise
Fundrise is a platform for investors with a long-term outlook and wants to get into alternative investing. This app offers crowdsourced real estate investing with annual returns of as much as 8.7 – 12.4%. Especially for those who do not have that much enough, this is a smart way to get into property investing.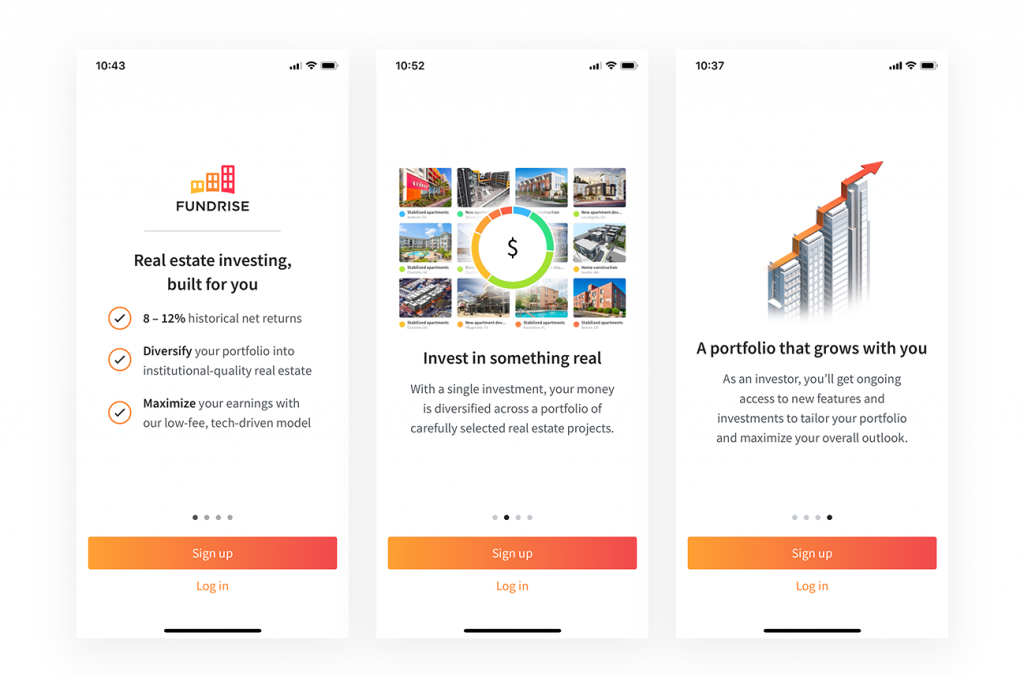 Fundrise makes online real estate platforms accessible to all, not only to accredited investors. It provides real investment trusts (REITs), and access to expert advice, as well as some balanced investing options. This app is great for investors who want to diversify their portfolio.
* Please note the figures used were accurate at the time of creation of this article and are subject to fluctuation.